09.13.16
Team Work: Christian Louboutin x Sporty Henri
You may know Christian Louboutin for his iconic red soles and fantastical designs, coveted trainers and unique forays into the world of beauty, but did you know the creator of some of the most powerful pumps in the world is also a passionate sports enthusiast? This year, Christian Louboutin has teamed up with former French professional handball player Henri Tai and his e-concept store SportyHenri.com to collaborate on two of the most unique projects in the world of sportswear, first dressing the Cuban National delegation for the Rio Olympic Games, and now, for an exclusive and first-of-its-kind capsule collection. Taking inspiration from Sporty Henri's motto, "Mettre Le Sport En Valeur," Christian Louboutin is pleased to present four limited edition styles created exclusively for the partnership, each based on beloved and highly collectible sneaker silhouettes in the men's collection. The trainers leverage Sporty Henri's clean colour palette of white, cobalt blue and black, as well as the brand's logo – a playful and elegant profile inspired by founder Henri Tai. Each trainer is finished with Christian Louboutin's signature red sole, here in relaxed rubber.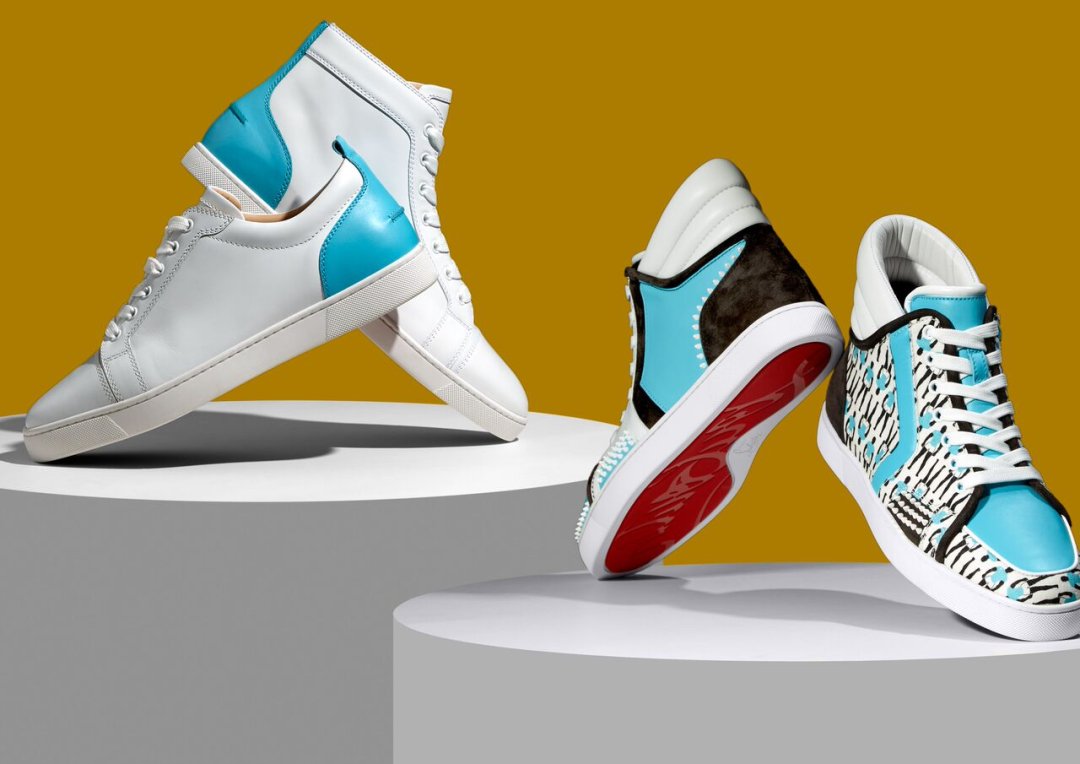 Launched in April, Sporty Henri offers a unique proposition between shopping and editorial for the sartorially inclined athlete, including world class advice above and beyond routine styling and fit guidance. The site aims to inspire its audience to elevate their sporting life through knowledge and support from highly-regarded experts in the field, including world class athletes such as Tony Parker, as well as "les Amis d'Henri," an online collective of sportsmen sharing the benefit of their experience with equipment and personal practice, as well as tips on an active lifestyle. Sporty Henri's offering features a diverse mix of premium international brands as well as niche labels from the intersection of fashion and sport, all selected by Tai personally. The collaboration with Christian Louboutin marks the first exclusive capsule created for the site.
Below Henri and Christian discuss the exciting collaboration.
---
Who is the Sporty Henri man? How is his style distinguished from others?
HT: Having gathered together my edit of performance sportswear, I began to think about the comradery I experienced whilst competing in a team sport – a unique feeling of trust and a bond which was created through our shared goals and experiences. I then looked to my circle of friends, committed sportsmen of note, to join me in my undertaking. I felt compelled to re-create our 'locker-room' atmosphere, which was so important in supporting, motivating and finessing my own training over the years and offer it to all. The result is SportyHenri.com, a playing field where my motto 'Mettre Le Sport En Valeur' becomes a reality and is the first rule we play by.
I would say that my personal style is largely consistent, whether I'm out and about in the city or competing on a court. I take seemingly traditional elements of elegant dress and then update the outfit, bringing a contemporary air through a small tweak of styling. This I do at the last minute – an intentional slight undoing of the compete look for a surprising and unconventional twist.
What about the sportsman inspires you most?
CL: A sense of discipline combined with the duty of delivering a great performance and a show. Being a sportsman requires discipline and generosity above all. I find that the postures made by athletes are very inspiring too.
HT: I have great respect for all champions, in all sports.
Their sheer dedication and their achievements will always be heroic to me. It is so difficult to reach their level and this commands respect. As for those who have marked history and had a great effect on me: first there is world famous Brazilian soccer player Pele. He was a breathtaking talent, pure skill and flair. Another of my heroes is Mohammed Ali, a true talent with charisma to match: a man who stood for what he believed in, no matter the implications, who inspired millions through his dedication and talent. Carl Lewis is another one, his ability to compete and win across a whole host of different disciplines really set him apart as an exceptional athlete. However, the man who is perhaps my biggest role model is Michael Jordan. Not only did he have tremendous individual talent, but he also understood the importance of teamwork and that one man can't win it for everyone. Michael could inspire his team through his individual performance but more than that help them all to reach another level entirely and as a team. To me, Michael embodies that locker room atmosphere, that camaraderie within a team which can support individual talent.
What is your sport of choice?
HT: When I was young I played every sport I could! Football, track and field, basketball, volleyball were my everyday, but in the end, my sport was handball. From a young age I knew that I had a talent for sports, as time went on this drive to play sports only grew further. I knew if I practiced enough, eventually I would become a champion. So really, sport is my life. It has been there from the beginning and helped shape the man I am today.
Which sport, in your opinion, has the most elegant uniform?
HT: Fencing and Equestrian have the best uniforms thanks to the environment where the sports are practiced. The movements, the colors and the rituals are really exciting. I also like tennis, but when it's played in Wimbledon. The fact that to respect the protocol one must wear only white, it is an expression of the elegance in this sport.
CL: For me, a Gymnast. A gymnast's uniform is formfitting and shows off the athlete's spectacular body and is full of vibrant colour. I agree with Henri that fencing uniforms are uniquely elegant as well.
Christian, if you could be reincarnated into any athlete, who would it be?
CL: Muhammed Ali!
Henri, what about Christian Louboutin's sneakers appeal most to the Sporty Henri man?
HT: For me, clothes are an extension of myself, they let me express something about who I am, about my personality, but also they let me explore it. It is this vision that I want to bring to life with Sporty Henri, and here it takes form through this wonderful capsule collection of four trainers by Christian Louboutin, which I feel very privileged to offer our clients exclusively.
Basically I like that these shoes embody the soul of SportyHenri throughout the colors and the materials.
Christian, prior to meeting Henri, had you thought about making sportswear?
CL: No, it actually hadn't crossed my mind. This is one of the reasons this collaboration is truly a collaboration and so special.
Will you tell us how you and Christian became friends, Henri?
HT: Five years ago a friend mentioned that he was meeting Christian Louboutin for a drink and naturally I was very intrigued! He talked and had fun with his friends and I listened. Later in the evening we talked about me, my career and what I would like to do. We then discussed my passion for my project and my desire to do something different.
When creating the collaboration between Sporty Henri and Christian Louboutin, what were the most important considerations?
HT: Every shoe is different in terms of colors, materials and attitude. We didn't want to create just one design and impose it as the best. Therefore, the liberty to choose was one of the main considerations.
In your opinion, which CLxSportyHenri shoe would Christian wear?
HT: I think he would look great in the SH Louis Junior!
Christian, to wrap things up, what was the most fun part about working on this collaboration?
CL: To work with a great friend who, as a former athlete, has taught me A LOT! And of course, getting to meet so many great people, spending time with all of these athletes has been a great opportunity, their world is fascinating.
Explore the CL X Sporty Henri collection on ChristianLouboutin.com, SportyHenri.com and at select Christian Louboutin boutiques.